A Tale of Diaspora
Posted on May 19, 2021 at 5:44 pm By Admin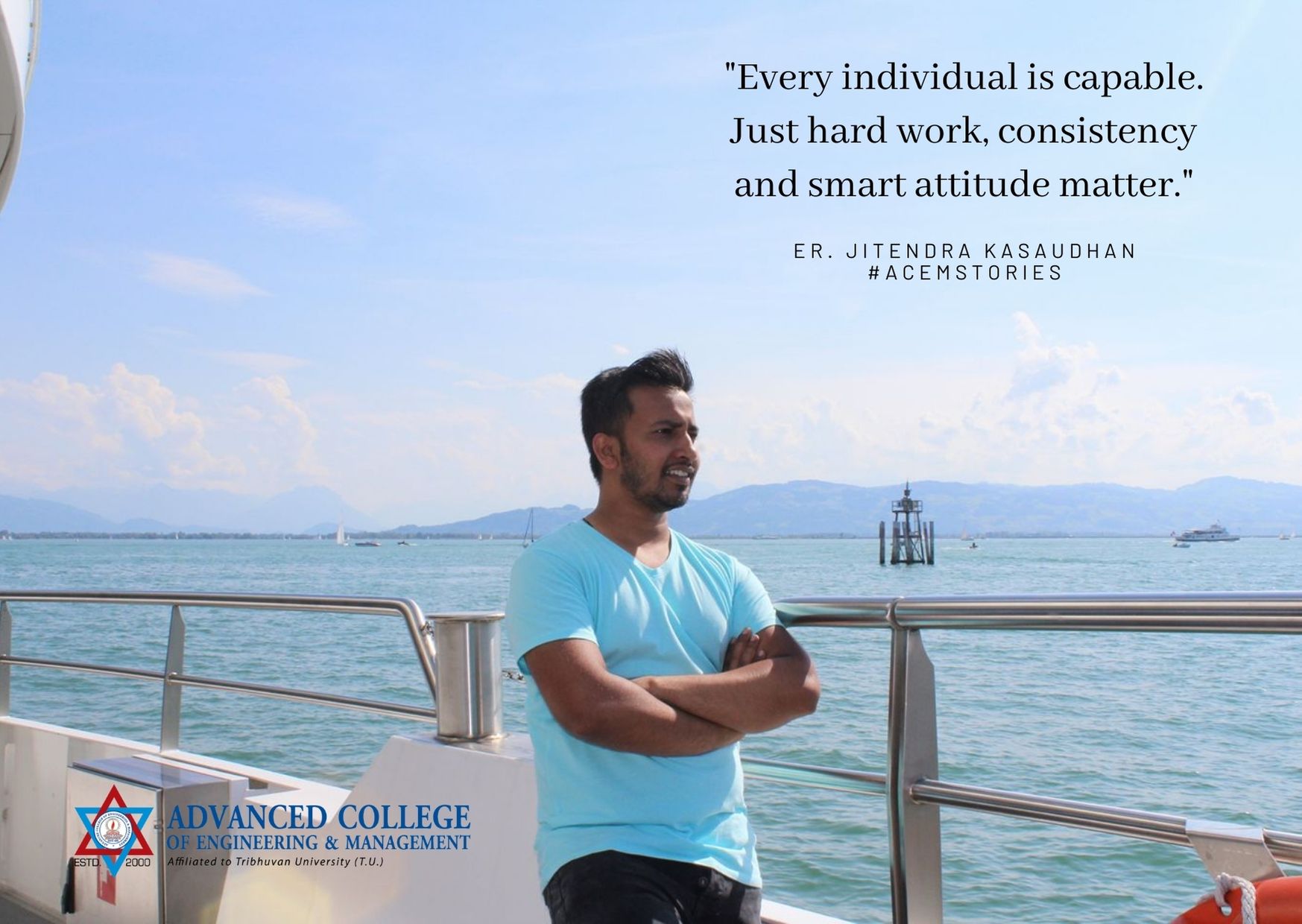 A Tale of Diaspora
an acem story of Jitendra Kasaudhan

Today let us listen to a story from the distant land of Europe. It began right after his Bachelor's degree in engineering was accomplished, this acemian then travelled many more miles to study abroad, in fact all the way to Germany; in a country of vibrant culture amid the landscape of forest, beautiful rivers and the beach. "I will come home once I gather required skills and training." He said in a firm voice.
Born and raised in Butwal, Er. Jitendra Kasaudhan claimed that he was just an ordinary student back in the school. "My younger self mostly spent a semi-boarders life. Well, apparently my grades were not up to the mark. I still remember that low-demotivated feeling.
Yet, the grades do not always determine the capability of an individual for the entire life. Anybody can rise and shine if they work hard enough." Today Er. Kasaudhan is a Chief Technical Officer at Talentese, GmBh in Berlin. He has also worked as a Web Developer for a couple of years in various companies of Munich such as CHECK24 Vergleichsportal GmbH, Experteer GmbH, and a few others. Er. Kasaudhan completed his Masters in Informatics in Technical University of Munich.
"I think life is also about taking risks and learning from the result. Once I quit my job at CHECK24 and tried out something new and challenging. It was with Talentese which was at its early stage. Yet, I partnered with them and I was responsible for handling all the technical and software development part while the CEO was responsible for handling the business part." Er. Kasaudhan explained his experience.
"I have always seen a gap between industries and academia in Nepal. I would like to work on this issue at first and thereby create a learning environment for future engineers or alike.

Besides, I love reading autobiographies and biographies as well. One of my favorites are Binod Chaudhary, Elon Musk, Steve Jobs and so on.
And whenever I think of acem, memories of Shyan Kirant Sir, Nimesh Sir, Pranita Ma'am appear most vividly. acem was a beginning point of my engineering life and I will always hold these memories to cherish." Er. Kasaudhan shared; just another tale of diaspora.


*****************