A Tale of Nostalgia
Posted on April 02, 2021 at 12:35 pm By Admin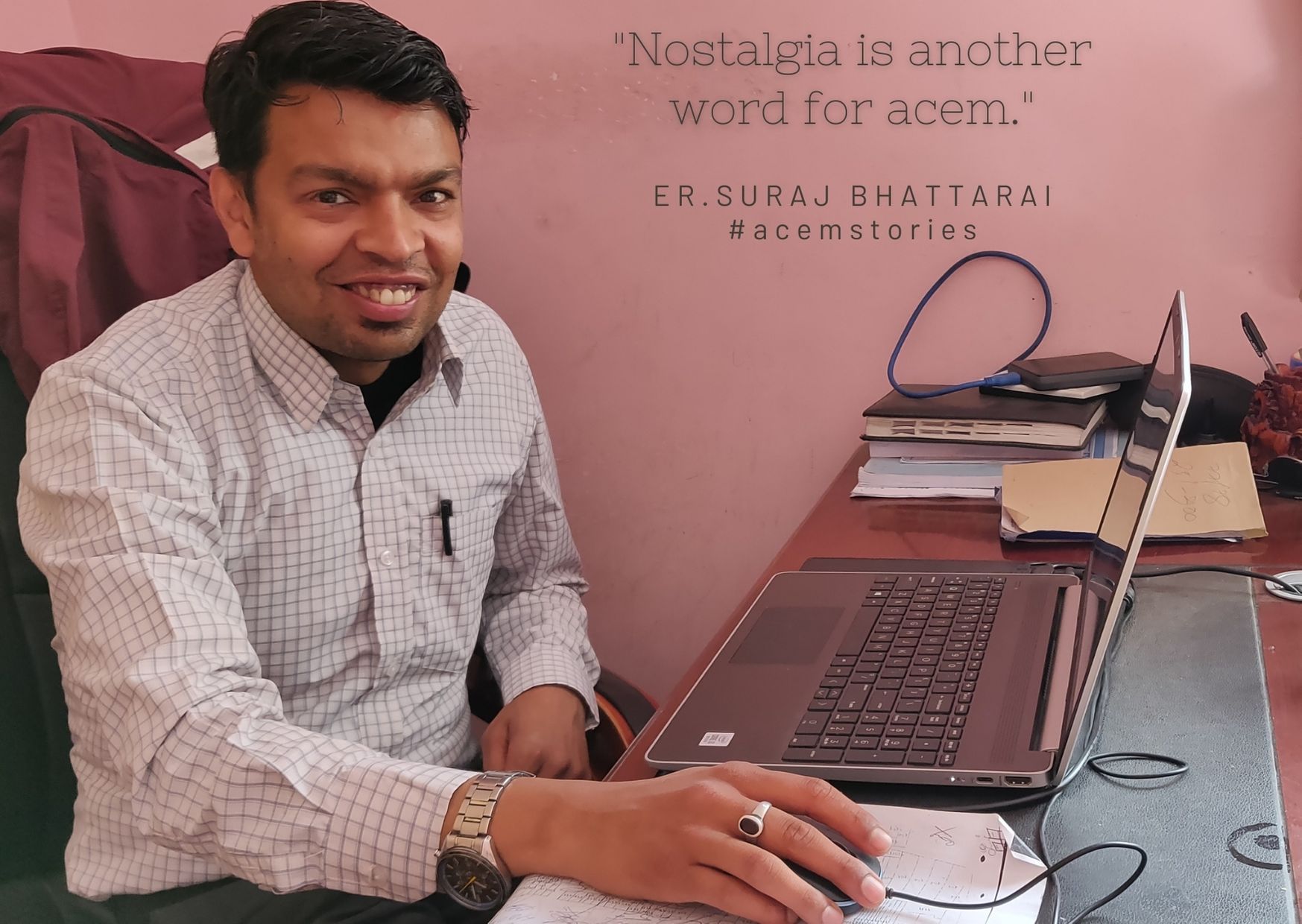 A Tale of Nostalgia
an acem story of Er. Suraj Bhattarai
Today let's turn the pages back and read a few lines from a previous chapter. The precise words might be missing but the vivid images are still intact.
The days were bright and mellow; the early evening sky was scattered with many colorful kites, and underneath below on the ground little boys were running around, their screams and laughter audible above the passing vehicles. The twilight would witness many strings cut free followed by yet more cheers. Well, it was just a peek at the childhood days of an engineer Mr. Suraj Bhattarai.
"We as a kid were a bit baffled seeing construction workers moving around in our playground. And guess what, it was the same building where I made friends, business partners, and ultimately my career. In fact, acem is the beginning point of my journey; indeed of life."
Born and brought up near Kupondole, Laltipur, Mr. Bhattarai joined acem in 2006 as a student of Civil Engineering and left in 2018 as a Deputy Head of the Department of Civil Engineering.
Today Mr. Suraj Bharratai

works as a

Transportation Engineer and Managing Director at Seismo-Tech Engineering Consultancy Pvt. Ltd. "We have been hiring acem graduates in our company from every batch. Providing opportunities to the fresh minds is also learning innovative ideas." He shared; a hint of delight in his voice not unlike that of a proud parent.
"Speaking of acem, I am indebted to Mr. Binod Parajuli Sir. He helped to shape my career. And not to mention Mr. Kishor Sapkota Sir. Had it not been for him, I might as well be in another engineering field altogether. For some reason, he happened to see a civil engineer inside me. I believed his words of encouragement and this is where I am now." He added proudly.
"I also miss Mr. Shyam Rana. Well, for us he is our dear Shyam Dai." He paused.
"I remember our mischief back in the days as a student. Today, I admire his enduring capacity; he always handled us in a polite manner you know. After I joined the faculty, my perspective to perceive things changed. I noticed maintaining calm with mischievous actions was not an easy task." He laughed before continuing. "I respect Shyam Dai for that. And appreciate him more seeing the same respect back in those eyes whenever they fall upon me."
Well, it was quite a difficult moment to bid farewell to acem. However, in some way, I will remain connected to acem forever.
Now as I think of it, acem is another term for nostalgia!"
******************