A Bundle of Memories
Posted on April 01, 2021 at 8:06 am By Admin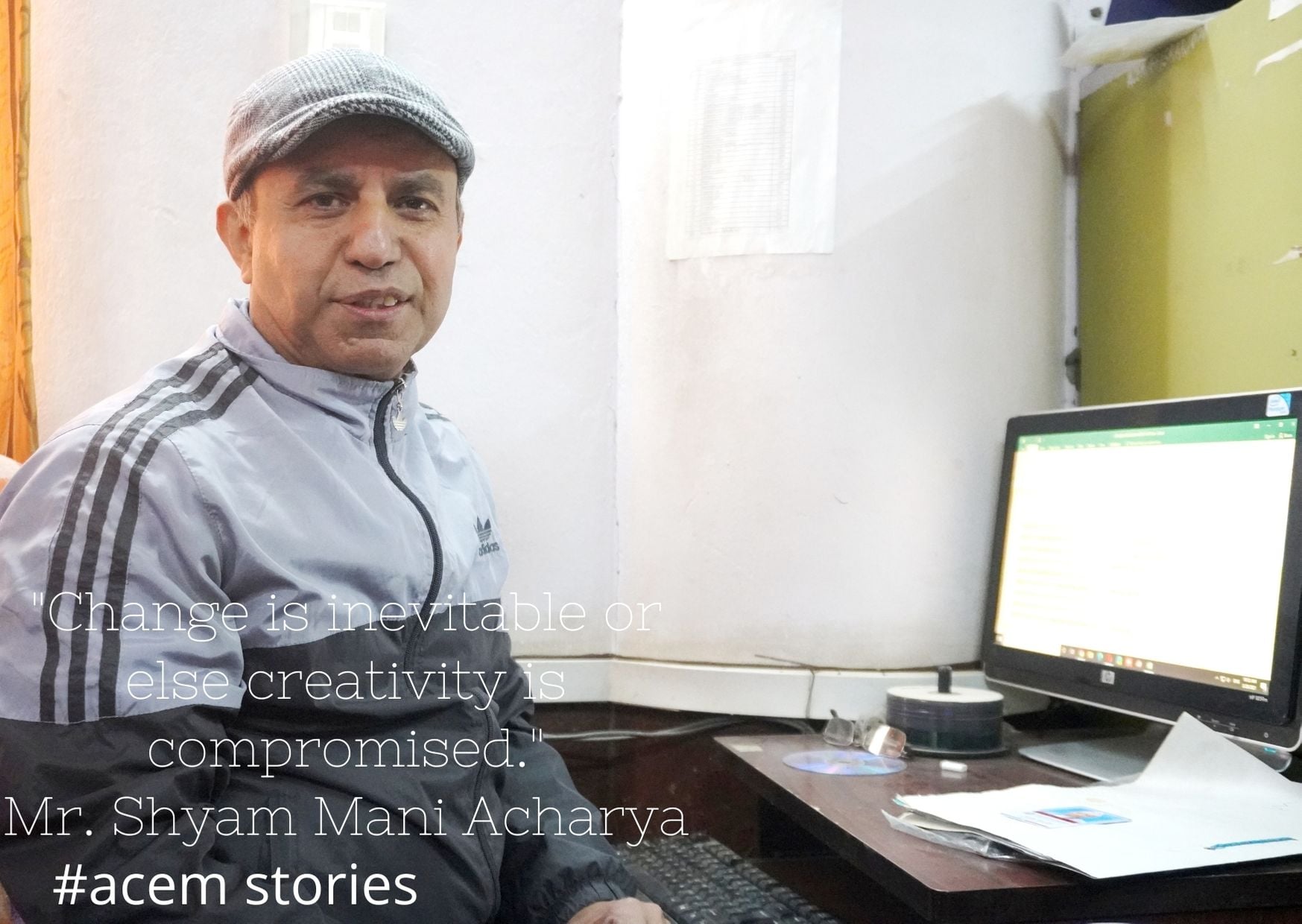 A Bundle of Memories
an acem story of Mr. Shyam Mani Acharya

"I am in acem since the very second batch. Every flutter of wind here appears familiar now." Mr. Shyam Mani Acharya nodded calmly. Behind him a window was partly open, some of the gloom of darkening atmosphere seemed unaware of this untold tale, it remained murky and saddened. Yet the words like never before began to buzz in rhythm, filling the entire room with Mr. Acharya's childhood adventures, the memories of olden days, and many more.

"18 years ago, I had joined acem as a CTEVT Diploma coordinator; today I work as a Senior Instructor in the Computer lab. It's almost as if we witness the kids (students) sprout the wings of knowledge and fly past us. I myself feel the shivering wings, a little nervous to take off. And yet they soar away.
The then tiny birds are all around today. Approach me even when I fail to recognize the changing faces." He smiled. Unlike the despairing environment outside, he remained lit. Even a small talk of his students happened to stir some joy within him.

Born in Kanchanpur, Saptari, Mr. Acharya had an eventful childhood. "I was in grade 6 then. It was nearly 40 years ago, I still recall when a rabid dog sank its razor-sharp teeth into me; apparently after biting 15 other people in our neighborhood. The memory of 14 injections is vividly clear."
He recollected with a small smile before sharing one more incident of his younger self.
"It was a merry day in a picnic. You know those lovely weather when the clouds are rarely scattered under the clear blue sky. I for some reason was following one of my friends on a cliff, he was used to the area. However, my feet, a newbie to such regions, slipped and I fell right into the river, many feet below." He chuckled, his eyes reflecting the bygone moments, reminiscent of good old days.

"Even so, the picnics in acem used to be way more interesting." He blinked for several seconds before continuing. "The laughter, the melodies, and the memories are still cherished."

"Change is inevitable or else the triggering factor ceases to exist. As a result, creativity may lose in the midst of subtle forces." He added later.