A Tale of Humility
Posted on June 02, 2021 at 1:20 pm By Admin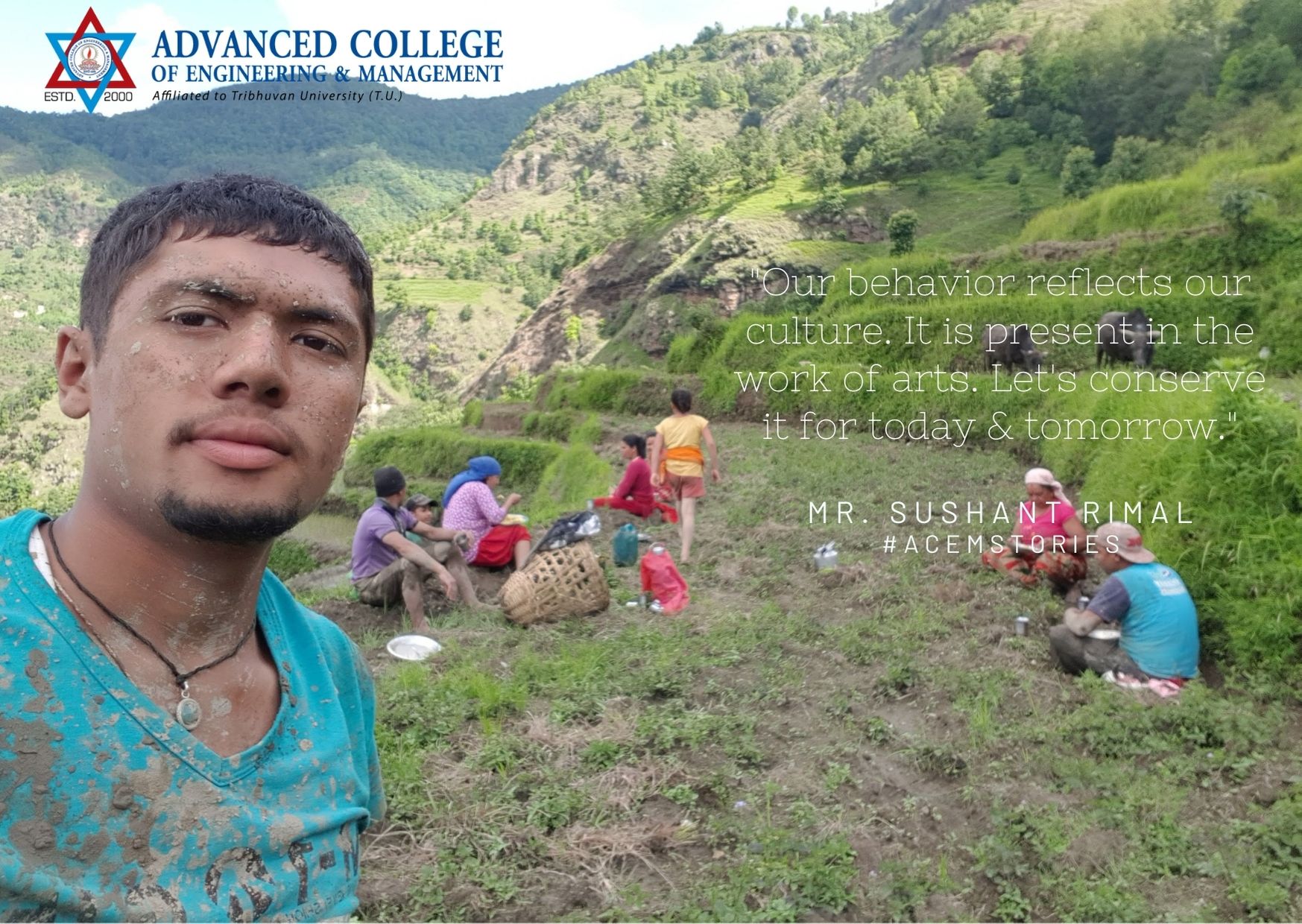 A Tale of Humility
an acem story of Mr. Sushant Rimal

"It was on the way back home; we passed by an aged lady, walking slowly on an empty road all alone. Curious and concerned, I asked her why on earth she chose this solitary and at the same time tough journey, she could have easily gotten a seat on the bus. Her response surprised me, yet helped to stick firmly to my goal. 'The roads are not safe. It's better to arrive late at home than never, isn't it?'"
"Well, I joined the engineering field because I have always been inquisitive in learning new methods of life. Since that day, I also wanted to contribute towards transforming our infrastructure, precisely to construct safer roads in order to ensure no tired legs have to walk all over again. Now, I regard this sector as the one that provides social service as well." His words reflected humility and a promise.
"'Aim?' A long pause was once followed by a series of puzzled faces. 'Well, I want to fly abroad, any country in Europe and USA will do or let's just say Australia for now.' Isn't it a disappointing statement?" He questioned, shaking his head in utter disapproval. "I received this feedback from many young children" Apparently, this is also why the nation fails.
Youth today are also awakening nevertheless. Born in Kushma, Parbat, Mr. Sushant Rimal is clearly among the latter group. "Abroad for learning but should not be our sole aim or how else would we grow? And our growth ultimately helps to flourish the people and the place around us." He added. He is currently a student of 3rd Year, also a Class Representative (CR), of Civil Engineering Program at acem.
It was due to his considerate attitude that helped to get vaccination against COVID-19 pandemic to the entire acem staff and faculties. "Mr. Binod Sharma is my cousin who works for the World Bank. I requested him to provide this vaccine to my acem family. I informed the details to the college and later delivered a formal request letter prepared by acem to him who managed everything henceforth." Mr. Rimal informed.
"Rastriya Bal Shiksha Sadan was my second home, it was my school. After SLC, I was planning to join a college in Kathmandu. I, however, joined Kushma Science College, an only institution for Science in our district because my father passed away, and I could not leave my bereaved mother on her own. I am an only child here in Nepal, you see.
My elder brother Prashant Rimal is in South Korea; it's his dedication and hard work that supported me in my engineering studies. I consider him and my cousin Binod Dai as my mentors as well as motivators." He shared with a hint of pride and affection.
All the same, Mr. Rimal also loves adventure. He once challenged himself by falling down the height of 228m jump as a mark of courage; it is the second highest Bungee Jumping Spot located in Kushma, Parbat. He is a huge fan of folk music and novels. One of his favourite works of art is 'Naso' by Guru Prasad Mainali and 'Seto Dharti' by Amar Neupane "If we conserve the traditions and our local music, we also safeguard our future." A quiet voice stated not unlike the ancient rhythm of patriotism.


*********************