A Tale of Tranquility
Posted on March 25, 2021 at 8:57 am By Admin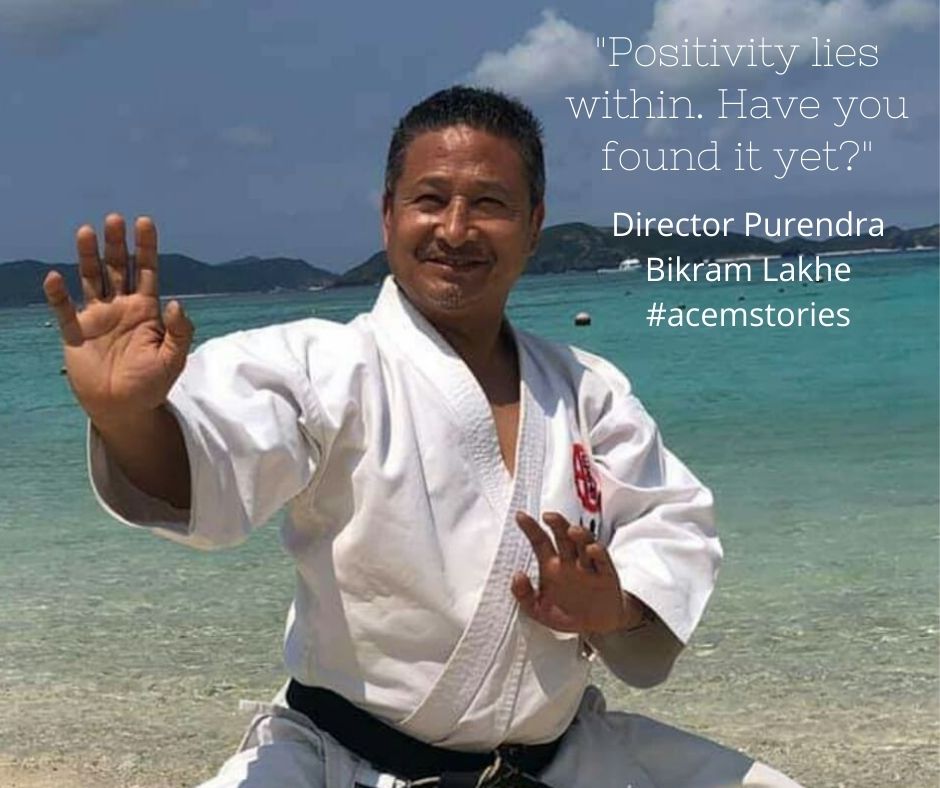 An Art of Meditation
an acem story of Director Purendra Bikram Lakhe
"The goal of meditation is not to control your thoughts, it's to stop letting them control you." He said with a smile.
"All we do in life is to chase happiness; participate in the never-ending race for contentment. A question arises, is that a right way to pursue the ultimate euphoria? Obviously not and never will be either," Mr. Purendra Bikram Lakhe, director of acem, continued, shaking his head a little.
Apart from being a pivotal part of acem, Mr. Lakhe is also a national-level Karate champion. He has bagged several gold medals representing Nepal in both national and international games.
He is also president of the Nepal Karate Federation. However, Mr. Lakhe is not just limited to these roles; as he is also president of Nature Lover Group (Prakriti Premi Samuha).
Apparently, he is a persistent devotee of meditation and yoga!
'Home is where your heart lies.' Yet this is not a regular home we are talking about. It is not made up of concrete walls but is somewhere many thoughts reside.
"An art of meditation guides a human mind into a tranquil space. This is where we spend most of our life, if we learn to master peace, we will no doubt achieve happiness; true happiness indeed.
Why do you think is an actual cause of misery? What makes a person fail anyway?
Well, we often fail because we put our expectations and values in the wrong place. We randomly search, lookout everywhere for a tiny ray of happiness in the most unlikely places. Even with luck, if one discovers them there; such a momentary glow will not last long.
Do you see the problem now?
Yes, we believe in fleeting bliss while the prime source of energy and vigorous joy lies within. And only through the mediation and peace of mind, one can achieve it fully" his voice calm as his statement."
Nevertheless, what if we fuse this knowledge of serenity with engineering? Once in a while, in the course of innumerable tests, homework, and examinations, one needs a state of calm. To fulfill this prerequisite, acem is all set to start Health and Fitness Club featuring them.
"There are no criteria for success? What is a success after all? The meaning might vary from one person to another. Even so, a proper combination of healthy diets, regular exercise, and pristine thoughts is an ancient practice in order to achieve the elementary meaning of life.
Following one of the three or merely just the two of them does not bring what we are looking for. The rule is leading a simple life following blending all of them into simple practices.
"Anyway, only with true of sense of social responsibility, one can perceive the rarely found delight in the world.
Positivity lies within. Have you found it yet?
It's just there, isn't it?" He added swiftly.
*******************