A Young Changemaker
Posted on June 08, 2021 at 6:25 pm By Admin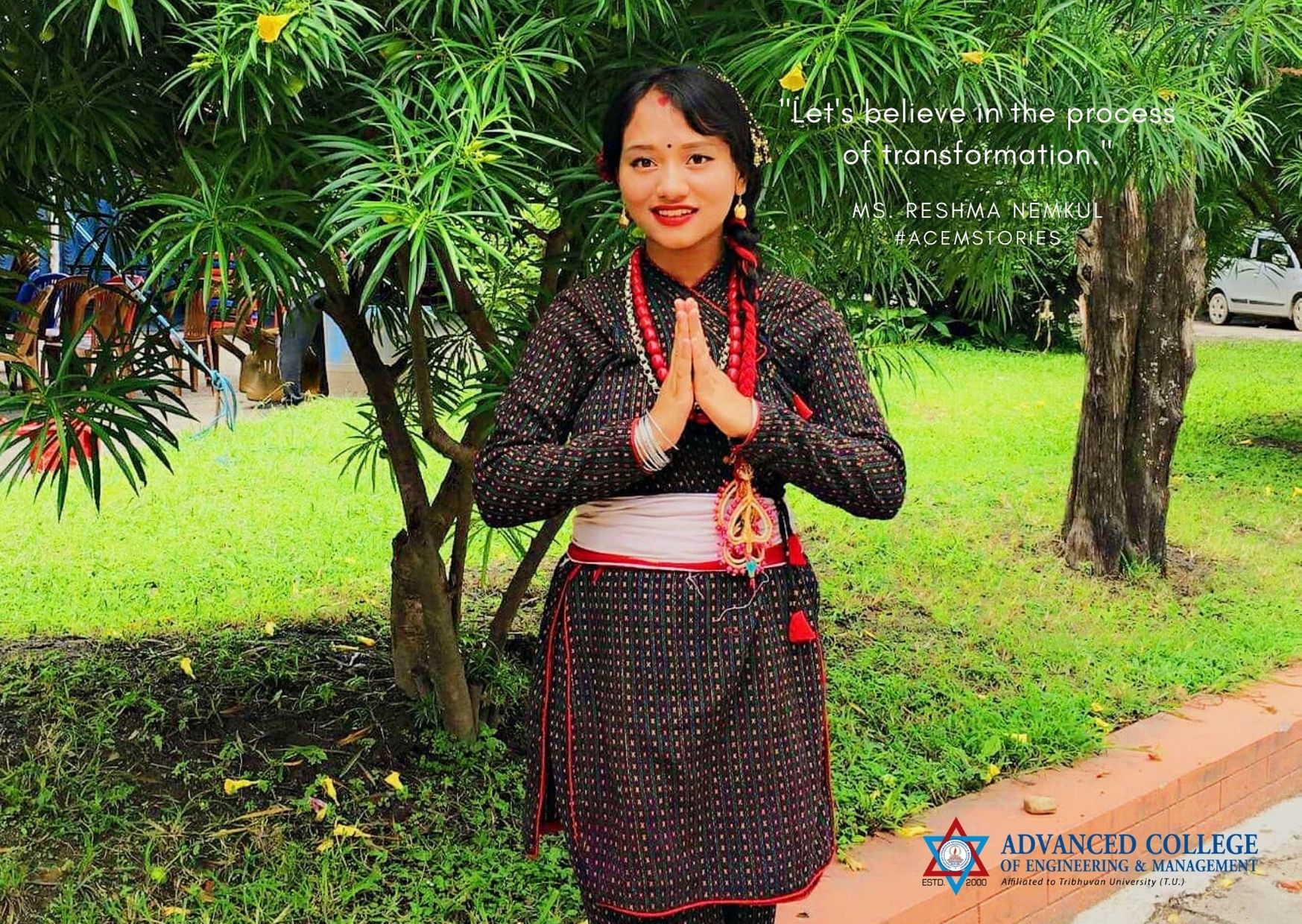 A Young Changemaker
an acem story of Ms. Reshma Nemkul

"There is always a way; one just needs to believe in the process of transformation."
In the ancient city of Mangal Bazar, Patan, she wakes up with constant auspicious ringing of bells from a nearby Krishna temple. A while later, almost at dawn, the hustle and bustle of hard-working farmers can be witnessed as they prepare to sell the vegetables. By this time, she should be ready for the ongoing online class which she patiently does despite the unstable internet problem.
Ms. Reshma Nemkul is a student of BCA at acem, currently in her first semester. "I had a dream to be an engineer. However, due to financial reasons it didn't work out." She shared with a small smile on her face.
She is also one of the founders of Youth's Unity, a group of young change-makers. "We were inspired by one of the senior brothers of our college. He used to feed the street dogs and even provide health support to the wounded ones.
We also wanted to join hands to help the needy although we had neither enough manpower nor the resources. Still with a strong will we moved forward to fight against evil that exists in our society. It was actually triggered rather vigorously due to increasing rape cases around us.
'Nyano badhne abhiyan' (Warmth Sharing Campaign) was our first step; it was about distributing second hand clothes to the orphans. We successfully completed it with the help of our social media posts and other activities like visiting the schools and requesting the students to provide their clothes that are in fine condition but no longer required.
One of us was good at rapping as well as singing, his lively skills helped us a lot. Similarly, we have also made a movie named 'Prastab' in order to support acid-attacks survivors. Originally, our plan was to showcase the movie at schools and collect the donation henceforth to be ultimately distributed to the victim. Unfortunately, because of the lockdown it was not possible. We have released the teaser of the movie, it is available on our YouTube channel https://www.youtube.com/watch?v=QhvLwAyOir4." Ms. Nemkul explained.

Born and raised in rich Newari culture, Ms. Reshma Nemkul is expert in cooking delicious traditional cuisines. She lives in a joint family of ten members and claims that the situation would turn rather unfavorable during exam times. All the same, her confidence and happiness has been restored due to the extreme support of her family.
"I had been a victim of ruthless bullying back in school days. It might appear quite a mediocre act to the bullies, as only the victim undergoes numerous stages of pain. I had just been shifted to a new school, all the friends were new. On top of that, there were so many students in the class; the number of my previous classmates was just four. Perhaps this new turn of events, the sudden change was beyond my power of endurance; you know of my younger self. I even failed in Maths then.
Like some popular rise and fall stories, I with the help of my Maths teacher and family began to do better in this subject and eventually ended up making friends. My classmates started to talk to me as an excuse for homework amid others." She laughed.
"Well, I believe in change as I have also transformed myself. So let's be the change instead of waiting for others to change." Ms. Nemkul assured in a determined manner.

***********************