An Unlikely Journey of an Engineer
Posted on May 28, 2021 at 7:09 pm By Admin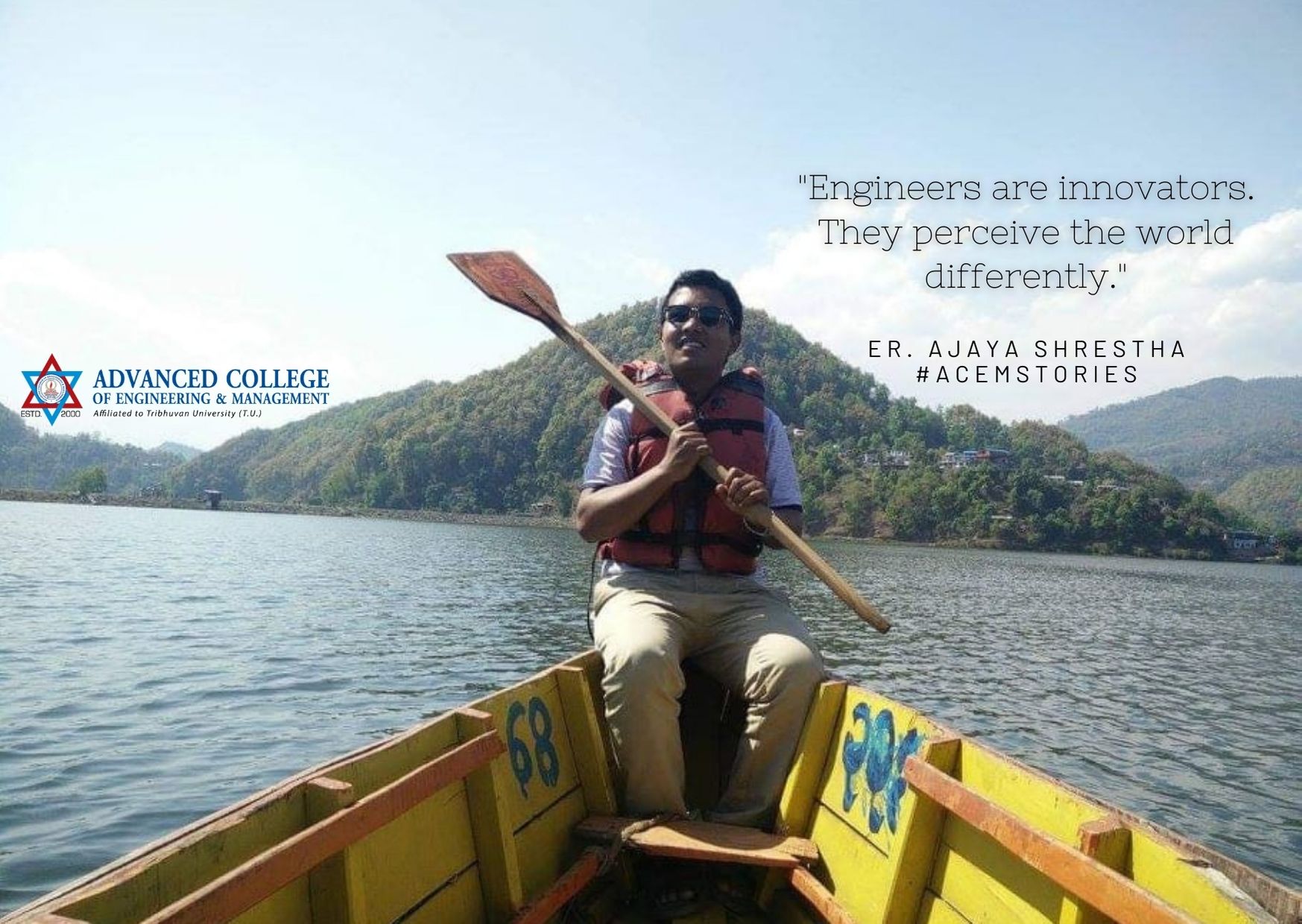 An Unlikely Journey of an Engineer
an acem story of Er. Ajaya Shrestha
It is often said that a 'school is a second home'. Well, for Er. Ajaya Shrestha this statement happens to be still relevant. Only instead of a primary school it is acem that is undoubtedly his other home. He joined acem in the year 2005 as a student of Electronics and Communication Engineering and is still serving this institution as one of the Department Heads.
"My connection with acem begins much earlier than my student life. Actually, the boys' hostel of acem used to be in one of my houses, it was much before I was admitted here. I have known this college for quite a long time, you see." Mr. Shrestha explained.
"I guess it was my curious nature that led me to an engineering field. I have been an inquisitive character that keenly observed and learned about different available machines. The younger Ajaya was always fascinated by the simple devices at home. I wanted to break them open and see how they actually work. Moreover, I also loved to learn programming.
Like most of the other boys of my age, I had also been a mischievous one. Once I aimed a large stone at a nearby hog plum (lapsi) tree, its branches weighed heavily, as many fruits were hanging patiently. Unfortunately, instead of any 'lapsi' the same stone fell back on my head and I had to live with the wound for some time." He laughed, reminiscing about the past.
After completing a Bachelor Degree in engineering, Er. Ajaya Shrestha accepted the offer of a Lab Instructor at acem. "Er. Pranita Ma'am was the then HOD of Electronics & Computer Engineering Department and it was my first step to teach the young engineers about computers and more. I regarded it as a wonderful early experience."
Today, Mr. Shrestha is an assistant professor and also carries out a responsible as well as prestigious duty of Head of Electronics and Computer Engineering Department himself. He received his Master's Degree in Information and Communication from Institute of Engineering (IOE), Pulchowk Campus.
"I still remember my hectic student life back in our student days at acem. I was in PACE (Project Association for Computer and Electronics), one of the clubs here. In order to deliver a better performance, our team used to work all night in the college building itself and have our meals in the canteen. In the due course, I had also been a second president of PACE." He recalled in a quiet voice.
According to Er. Shrestha, he is not a regular viewer of a movie or any television series but rather is a huge fan of sports. "I especially like football and cricket and never miss any match of Barcelona; I am a great well-wisher of Lionel Messi, you know. About Cricket, I like the South African Team.
All the same, for me, engineers are more like a group of innovators. They perceive the world unlike any other and thereby get the hold of critical thinking ability." He shared.
Interestingly, his journey in acem appears to be quite inspiring. From an ordinary boy who at first saw acemians at his home, then boys' hostel, to a student and then to a Lab instructor. Moreover, the journey still continued to achieve the role of Deputy HOD and now stands tall as the HOD.
Well, it still continues for more glory and success.

*******************