Dexter: Genius in Making
Posted on April 27, 2021 at 11:32 am By Admin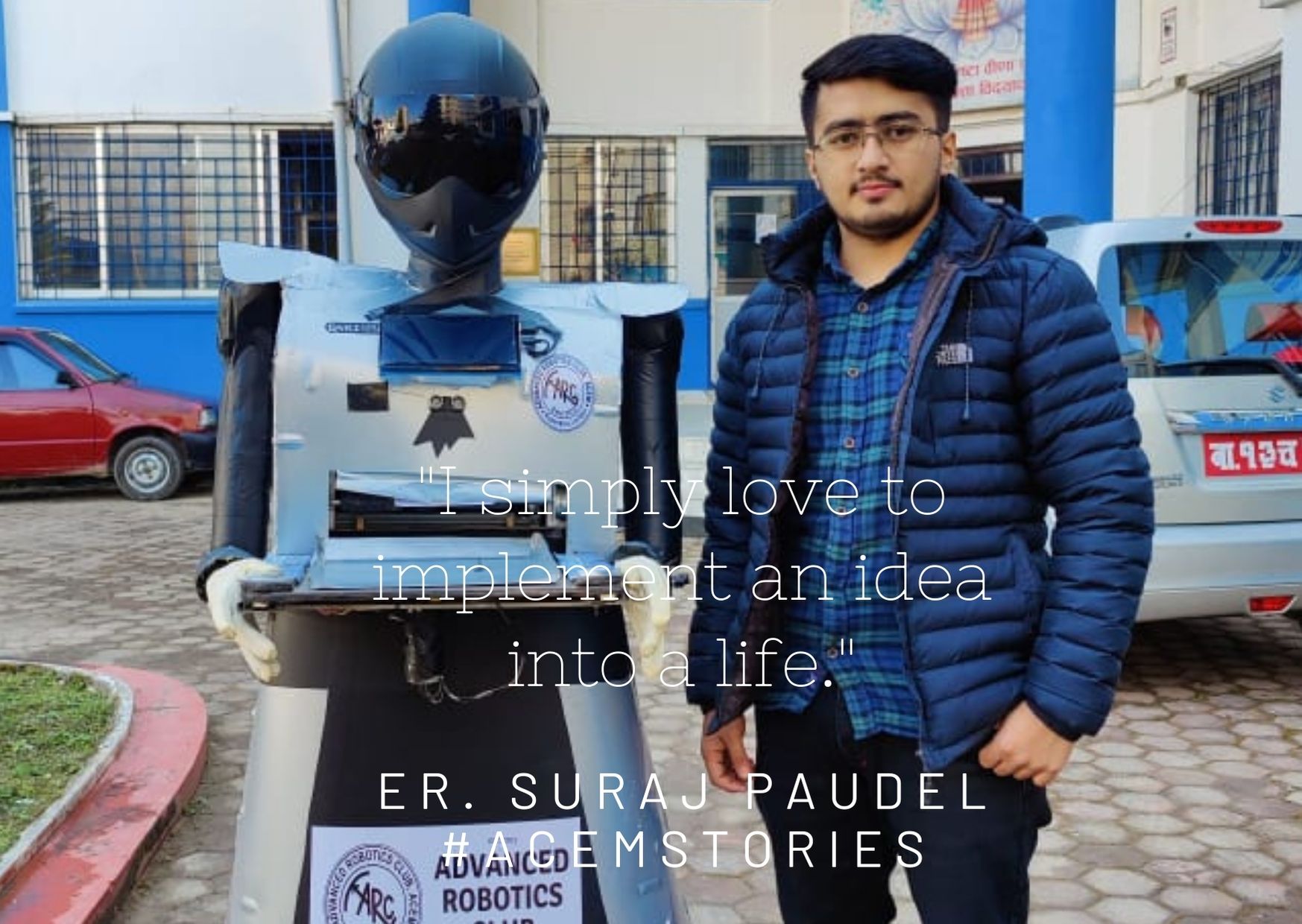 Dexter: Genius in Making
an acem story of Er. Suraj Paudel

A little boy, perhaps 5 or 6, looked around. His eyes fell upon the bare wire lying on the table. He blinked; his tiny eyes trying to calculate the result. Perhaps wondering the magic those thin strings could create.
The family that afternoon did not witness any extraordinary miracle, however. The room inhaled nothing but something closer to shock. Lying under the table, amid the echoes of shouts and cries, his gaze still remained focused upon the current laden cable and the innocent looking socket next to it.
Of course, we have read some stories quite like this one or watched them earlier; a tale of chasing knowledge, almost a furious eagerness to learn. Well, the fictitious character is here with us today, grown up and careful enough to not directly play with bare wire.
Even so, the gleam in the eyes appears fresh & fierce. Perhaps, the curious little boy reigns somewhere within. Now all set to experiment the knowledge he learned so far or maybe awaiting to create something that was never done before.
Popularly known as Dexter in his circle, Er. Suraj Paudel is about to complete his academic training of engineering in acem. He is the current president of Advanced Robotic Club, and also a researcher in the Research and Innovation Unit of acem.
Born in Syangja and raised in Rambazar, Pokhara, Mr. Paudel's story seems to narrate a sci-fi novel, of a dedicated character determined to innovate and create.
"There is nothing at my house that I have not opened up and checked. I've always been inquisitive regarding machines and how they work." Paudel said. This was much long before he began his engineering journey.
So, basically, engineering was the result of the long-awaited thirst of knowledge. Today whenever he is back home, he hardly can be seen resting and relaxing at home. He might be fixing up a television set in his neighborhood or light bulb nearby or anything relevant to his field of expertise.
Perhaps, he has always been an engineer, even the little boy was.
"My aim since many years has been to invent a Rice Combine Harvester. We call ourselves as one of the nations of farmers. You know, a lot of lives are directly dependent on farming. Unfortunately, still our farmers cannot afford a proper machine for their daily hardships.
My plan is yet to be finalized. But someday I will execute this dream of a cost-effective, eco-friendly Harvester. Isn't it cool to see 'Made in Nepal' stamped on it?" He smiled.
"Back in Tops School, Pokhara, we used to be involved in sports as well. Our team did participate in various National Badminton Championships as well.
Likewise, we have also represented acem and our country on numerous national and international platforms. For instance, we proudly represented acem in Technorion at Techfest, in IIT, Mumbai.
Moreover, our team also successfully participated in Robosoccer at Yantra 6.0, Manuel Akhada at Locus, Pulchowk, Automatic Akhada at Yantra 7.0, Robo Business Cup at Yantra 7.0 and 8.0 and also in Balloon Burst and Robo Race at NCE College organized by Technorion Nepal 2020. In fact, we were also Runner Up of Mannuel Akhada at Srijana, acem." Mr. Paudel explained about his accomplishments.
Silent and solemn, Mr. Paudel expressed his concern over the skill-based education system. "Pragmatic learning is equally important as that of theoretical one. After we accomplish our academic degree, we require skill at hand.
For me it was interesting to study about the electronics and machines that I had already worked on. Such in depth learning of both parts helps us to see things in better light.
On the other hand, I have not always been this way. Often, the questions like, 'how come you seem more mature than your age?' are fired across my way. The thing is, I had some serious anger issues. I used to feel like you know the devil inside was me at large, controlling me, my every move and my thoughts as well.
Nonetheless, I triumphed over it. I fought against the negative thoughts, tried upon the positivity as well as over the healthy habits. I guess that is what a mantra of a happy life." He chuckled, probably a sigh of relief was hidden somewhere.
"Anyway, more than anything else, I simply love to implement an idea into a life." The eyes reflected nothing but a promise.