The Amiable Style
Posted on June 28, 2021 at 1:13 pm By Admin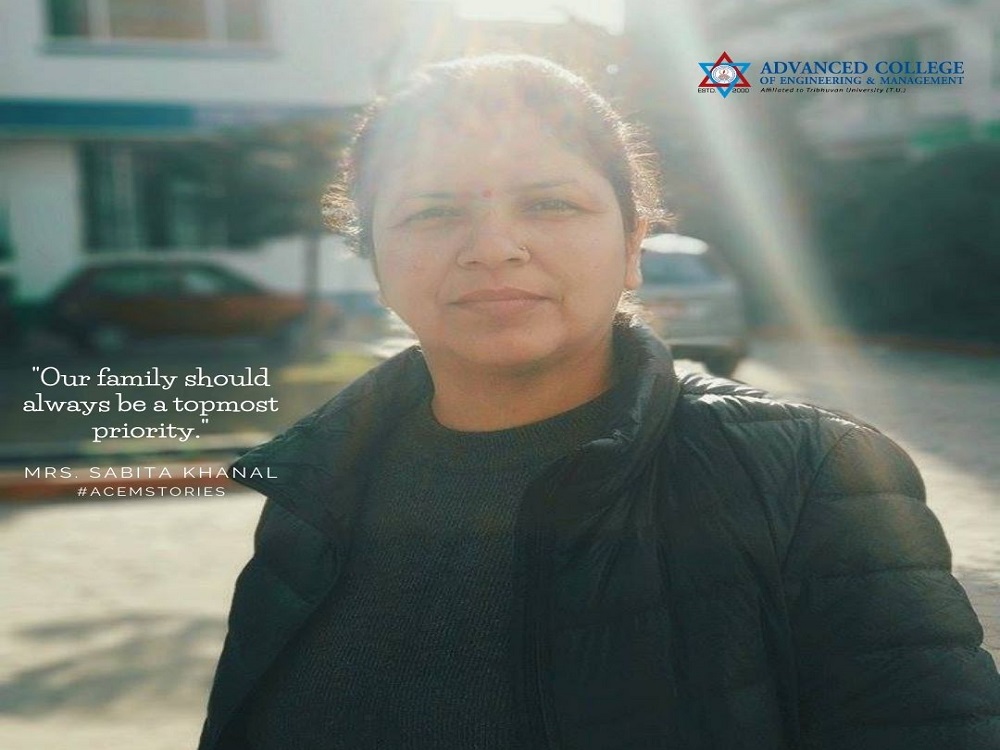 The Amiable Style
an acem story of Mrs. Sabita Khanal


It's been a decade since her very first step in acem. Although for her it almost passed by in a flicker of a second, several days of memories are, nonetheless, tucked safely in the pages of her diaries.

"I've had diverse stages in the journey so far. I miss the jovial days of the childhood of Palpa while cherishing the lasting memories of Biratnagar after I got married. A new life began thereafter in Kathmandu after I joined acem." She shared, adjusting her glasses absentmindedly.

Mrs. Sabita Khanal was born in the aesthetically pleasant hills of western Nepal, Tansen, Palpa. Raised in a medieval town of the country, she treasures the existing historical monuments passionately. Rani Mahal happens to be one amid many others.
"Well, the luscious aspect of my birthplace is our traditional cuisine 'Chukauni'. In short, it is a Nepali Potato-Yogurt-Salad, originated from Palpa district. I often prepare it for my family, especially on the balmy days of summer.

I still vividly remember the not so blurry days of childhood. There used to be a swimming competition in a huge pond nearby our school. Although girls were not allowed, we used to watch it anyway despite quite a good deal of fear. The secret spectators, however, had to leave long before the game could actually complete." She laughed, recalling the moments of mischievousness.

The positive as well as deep aura of Mrs. Khanal appears to reflect even in her choice of music and arts. Her favorite musical personalities include the most prominent popular singer and composer late Narayan Gopal, and Udit Narayan Jha as well.

Mrs. Khanal, with the help of her daughter, is also involved in making masks during her leisure time; they come handy especially when she goes out to shop in the lockdown. Back in the days, she used to also provide 'Sewing-Cutting' training for the ladies.

"I love to share and be around people. Perhaps that is the reason why I've been missing acem so much since we are bound to communicate only via virtual medium. Be it at a picnic or on festive occasions like Teej or Holi, I must be the first one joining the dance floor or painting the faces of the person next to me. However, I always make sure everyone present participates then and there to have fun.

It is my nature you see, I easily and in no time become friends with the new ones. Nevertheless, this very attachment does cost a lot of suffering in case of loss. I guess, some of such distinct incidents made me take a back step once in a while. Anyway, life is a journey. We've no choice but to take what it offers, isn't it?
This is precisely what an exhausting period of pandemic has also been whispering in clear words. The value of our loved ones and their health has been our topmost priority during these difficult times. In one way or the other, we learned the worth of our families. A lesson to follow no matter what the situation is."

********************