The Avid Reader
Posted on April 20, 2021 at 10:19 am By Admin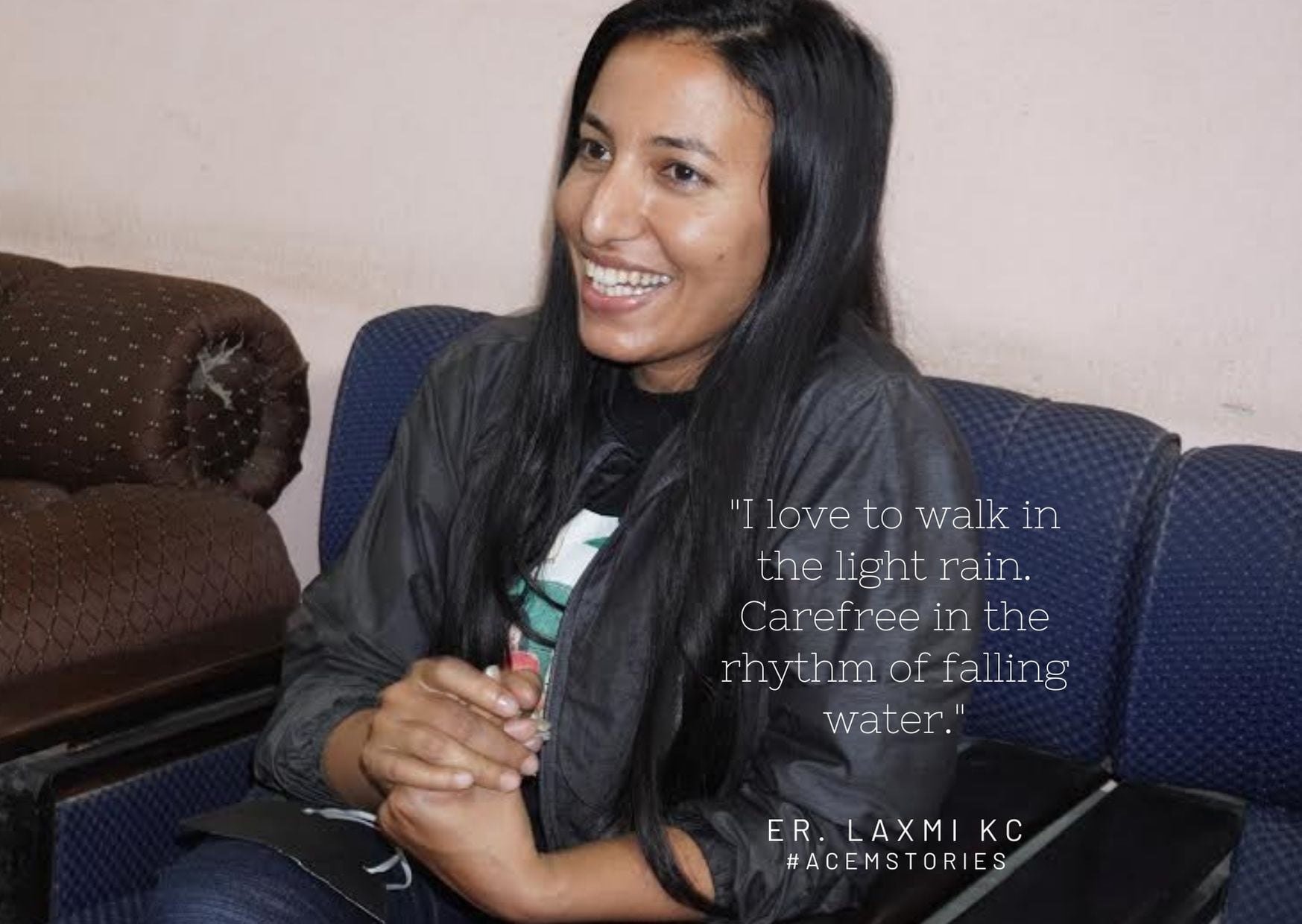 The Avid Reader
an acem story of Er. Laxmi K.C.

"To bring smile in your face
is the only reason for me to live
Always trying to make u happy more or less
Thankful to this precious birth you give."
- Er. Laxmi KC
Lecturer at Department of Electronics, acem
She might be a lady walking in the drizzle, carefree and enjoying the rhythm in rain with an earphone tucked safely in both ears. Chances are she may not hear you then for the volume, unlike the falling drops of water, is quite high.
"I like to read books, listen to good music, also to dance. Well, the good music for me is the one that we as 90s kids enjoyed growing up. To be precise, they include evergreen melodies by Nepathyas, Nabin K Bhattarai, and many more. I also watch Voice of Nepal and especially admire dear Jojo, Mr. Raju Lama, of course." She nodded with a small hint of a smile.
"I was originally named Sunita, a name that was dear to my mother. Apparently, it was her best friend's name. However, I don't remember anybody calling me that name.
Unfortunately, my mother's beloved friend 'Sunita' had passed away pretty soon. Sadly, it so happened that the mother would recall her late friend all the time with her daughter around carrying the same name. It was then, I was given another name. Well, that's what represents me now."
Born in Chandol, Kathmandu, Er. Laxmi K.C. completed her Bachelors from Thapathali Engineering College while she accomplished her Master's Degree from the Andhra University of Engineering in India. "I had received a scholarship via Indian Embassy to study there." She informed.
She has been a part of the acem family for the last 3 years as a lecturer in the Electronics Department. "Everybody is friendly here. I appreciate this very quality the most." She added.
"Apart from teaching, I also love reading, especially the literary works by Nepali writers. When I was in school, one of the teachers used to make me read the articles by Mr. Khagendra Sangraula. The words reflected no images back then. However, now each word makes meaning and creates a world of its own. Today, I really follow the works written by Mr. Khagendra Sangraula and many others.
If I have some leisure time, I do like to write as well. In fact, I used to be a regular writer once. I had a diary, the only place to pour down my innermost thoughts. Well, I think in life, one of the ways to appreciate ourselves is to let some of the emotions alone.
Unfortunately, one afternoon, I found a few of my friends reading the pages from my dear old diary." She paused before laughing heartily. Since then no more letters were added; the rest of the pages ever that day remain unscathed.
"Life is full of mixed emotions. Its various shades are scattered around. One day we are colored in green and in no time we are painted in the gloom. Indeed interesting, isn't it?"